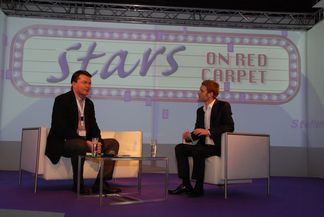 Kick Off Conference - Vienna
"STARS ON RED CARPET" was the motto of a very special conference to kick off the year in Vienna. For three days, much hard work and discussion took place in a conference room which we had converted into a television studio setting. The ORF journalist Christoph Feuerstein led participants through the event which featured interesting contributions from guests from Germany, Holland and Switzerland.

The last evening was the highlight of the event with this great quote from the CEO - "thank you to my wonderful employees who are the real stars for me and the company".

The employees were invited to Hair and Make-up artists for personal styling, followed by a photo appointment with Marilyn Monroe and Antonio Banderas doubles at the press wall and they were then picked up in limousines to be driven to the evening location where the celebrations continued long into the early morning.

For this event a complete concept was implemented, including stage design with suitable technical effects and lighting, as well as the stylists, accessories, doubles, press wall and limousines, completed by the evening locations with individual menus and invitations.