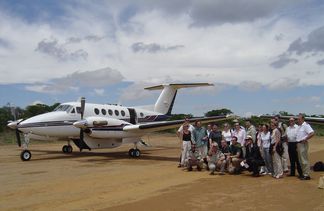 Incentive – South Africa
Going to South Africa is always worth the journey. That is also the opinion of one of our clients, who wished to create a really special event for his top customers. Lasting a whole week, the event started off in a Safari Camp in one of the most beautiful wildlife parks of South Africa, reachable only by a private plane, and continued on with several stopovers concluding in Cape Town, the city without limits.
What made this event so exceptional?
Typical African evening meals with the local residents, discussions about the history and future perspectives of the country, a sailing trip along the wonderfully picturesque beaches of the Cape, an excursion with the hosts own oldtimers driving along the Garden Route including a wine-tasting in their private vineyard and lots more.
The open and genuine teamwork with our local partners made this a truly unique experience for ourselves and for our customers. On the flight back home many people could be overheard saying " this trip is difficult to describe in words, but will certainly never be forgotten".