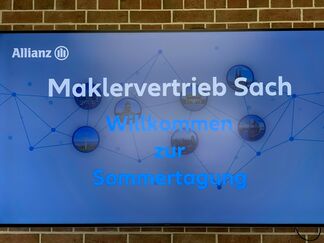 Credential Allianz Versicherungs-AG / Maklervertrieb Sommertagung
A big THANK YOU for a brilliant performance!
For this purpose, 250 employees from all over Germany were invited to Leipzig. Porsche offered the perfect setting for this event. The interesting and varied workshops the next day gave the colleagues more time to exchange ideas.
"… Thank you very much, dear Eva, for your super professional preparation and implementation of our special major event. We found ourselves in the very best and creative hands at all times and the event was perfect in every detail! I'm already looking forward to the next event with you!
Kind regards Tanja Koenig (Allianz)"