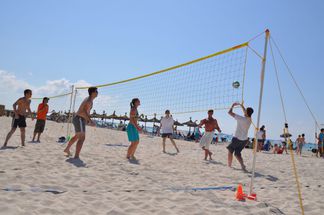 Sport Event - Mallorca
Sport continues to be one of the most popular event choices as a suitable team building measure to improve the flow of communication and exchange between employees from different areas of a company and from other countries, .

A programme was developed for 80 employees from all over the world that perfectly combined sport with a communicative evening social event. Professional volleyball trainers accompanied the sports event, which was held on one of Mallorca's most beautiful beaches. The individual teams were accompanied throughout the exciting yet tiring day with music and a great atmosphere. After the days sporting event, the guests had the chance to relax and while away the evening with interesting discussions in one of Palma's most famous Beach clubs.