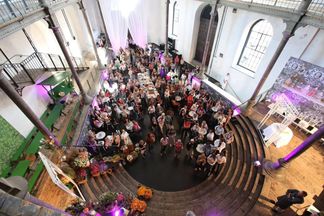 Installation Setting - Vienna
True to the motto "Your life is a work of art", the Vienna artist scene was the focal point of this event concept.
Where it all took place: the Semper Depot, formerly used mainly as a production location and store for theatre decoration and sets, but today part of the new studio of the Academy of Visual Arts.
In a self designed installation setting, a personal space was designed and built for each artist, visually fitting to his handwork. The effect was a near endless variety of artistic creation - to pick out just a few of the in total 13 Art-Workshops, the variety stretched from a milliner, a seamstress who made clothes out of paper, a bookbinder, a stonemason, all the way to cake decoration. In each studio, the artists designed, painted, sewed, experimented, discussed und philosophised with their invited guests. The 'Prospekthof', which was converted into a Viennese coffeehouse, served as a cosy meeting place for a Viennese Melange (coffee) and cake or for a quick chat over a glass of Prosecco and light snacks. At the end of the day, unique works of art had been created, and the guests were fascinated by both the artists' stories as well as the experience of meeting them close-up in person.
This project would not have been possible without the spontaneity and flexibility of the wonderful artists and without the unfailing trust of the client.