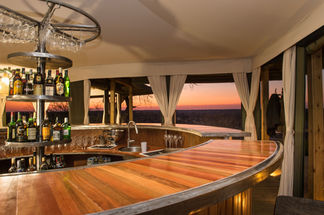 Nelson Mandela once said: "I believe that South Africa is the most beautiful place on earth." Anyone who has been to South Africa will surely agree.
South Africa inspires with its natural beauty, the richness of its wildlife, the cultural diversity of its people and its culinary delights. South African hospitality and the warmth and happiness of its people, makes the best days of the year even better.
The new Hilltop Lodge is open. Just a 1 hour drive from Hoedspruit Airport, the Lodge offers magnificent views of the Nhlaralumi River and the distant foothills of the Drakensberg Mountain Range. It is located within the Timbavati Private Nature Reserve in the Limpopo province, adjacent to the Kruger National Park. The Hilltop Lodge consists of eight pavilion-style luxury tents and is situated on a beautiful hill offering spectacular views of the surrounding bush and its wildlife. Timbavati Private Nature Reserve is one of the last nature reserves in which the rare white lions can be found living in their natural habitat.
For more information contact our South African partner agency Egoli African Destinations: egolicpt@egolitours.co.za.
Website: http://www.egolitours.co.za